Activities in 2007 include:

Big Tent 2007, Scotland's Festival of Stewardship is coming to Falkland from Friday 15 June to Sunday 17 June.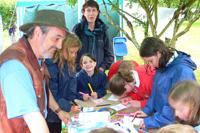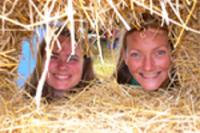 The Big Book of Falkland
Falkland is a very special place; the aim of this project is to record and celebrate what makes it so. This giant book will illustrate - in pictures, words, maps and other creative ways - the people, places and projects that together make Falkland exceptional and distinctive.

The contents of the Big Book will tell a story about Falkland, its people, landscape and wildlife, past, present and future, seen through the eyes of local people, and those from further afield who share an interest in Falkland. To get involved, click
here
.

Thanks to Awards for All for funding this project.

Sugar Acre Children's Garden

The environmental community worker, George Kemp, will continue his work with Falkland Primary School, teaching horticultural and environmental skills to the children. The children are helping to construct a wildlife pond, to contribute to Sugar Acre's rich biodiversity.